This evidence-based post looks at some of the ideal keywords for an MSK physiotherapy website, based on data from our 2023 Physical Therapy SEO Keyword Guide, which you can download for free.
When optimising your website, there are certain key places you can put your main SEO terms. Using terms in these places which people are searching for in volume will significantly increase your chance of being found, whereas using keywords which few or no people are searching for will mean you're getting in front of a much smaller audience.
The Brief
We're going to find keywords for a fictional MSK physio clinic homepage to create the SEO page title (title tag), SEO page description (meta tag) and h1 tag.
We'll create two pieces of text, a shorter one around 50-60 characters which could be used for the SEO page title and h1 tag, and a longer one around 150-160 characters, which could be used for the meta description.
Search Volumes of Relative Therapies
Let's begin by looking at the search volumes of different therapies in the UK, from our Physical Therapy SEO Keyword Guide.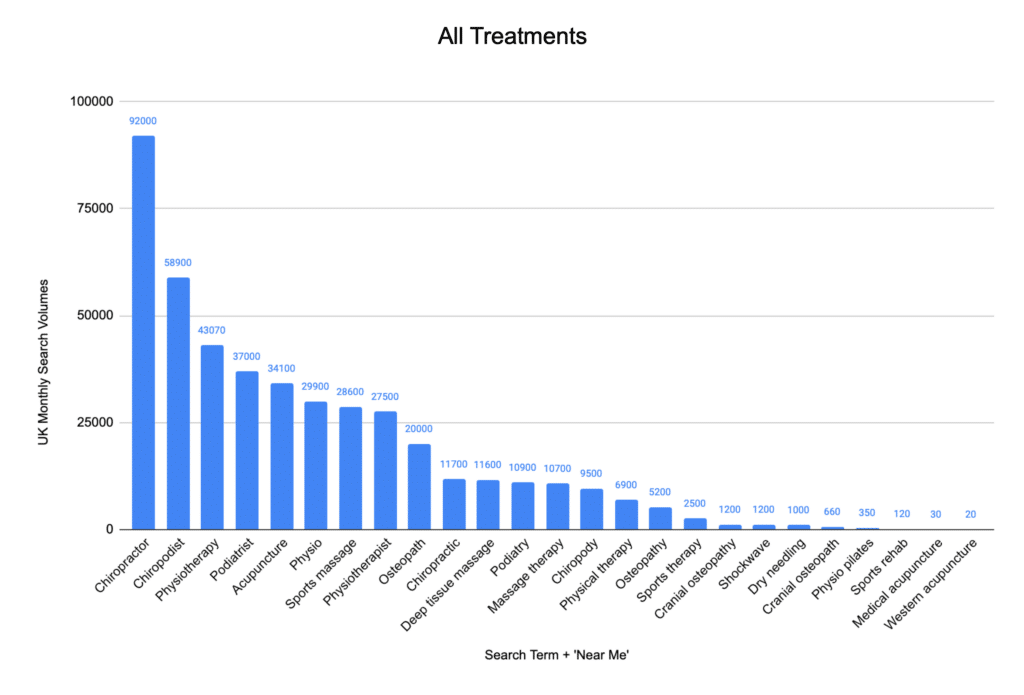 From this we can see first that physiotherapy gets more searches than physio, which both get more searches than physiotherapist. Although Google is more than sophisticated enough to know that they all mean the same thing, exact-match searches will rank higher. Use a mixture of synonymic terms throughout your site, but in the main places where you have to choose one (e.g. your homepage title tag or h1 tag, use physiotherapy.
Another thing we see here is that sports massage is also a big search term. If you also offer this service, it is also well worth optimising for.
If you offer shockwave it is a large enough search to worth creating a page for, but stick to physiotherapy and sports massage as your main optimisations.
Physiotherapy Sub-Searches
Next let's look at searches within physiotherapy itself: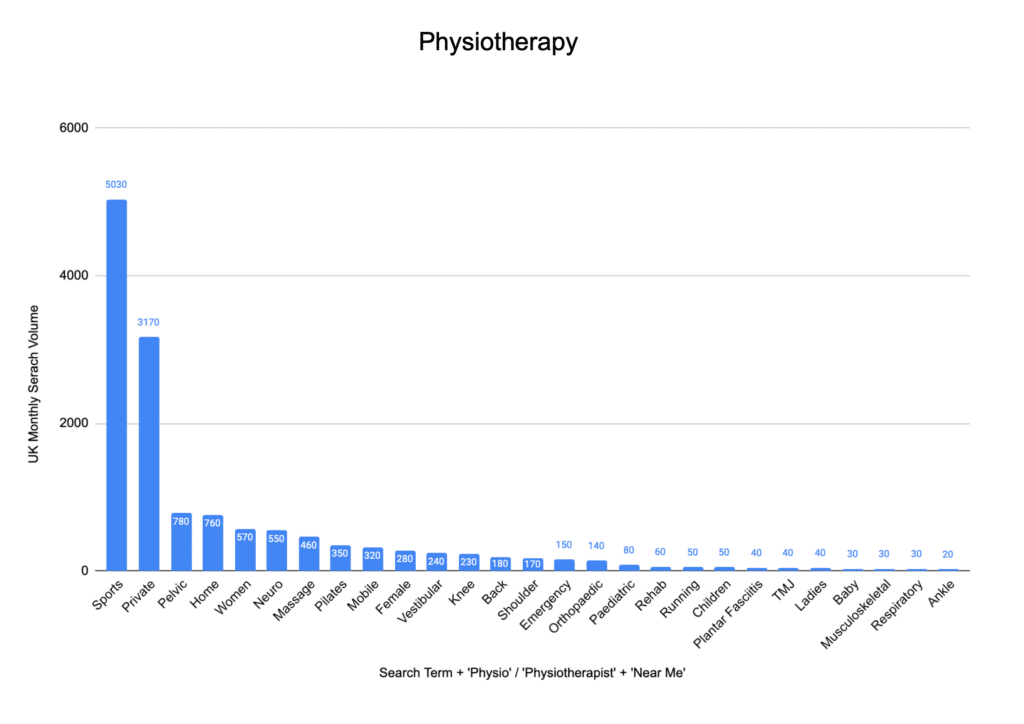 As we can see by far the two biggest searches are for sports and private. This sets physiotherapy apart from other therapies in SEO terms, as searchers tend not to specify private for therapies such as osteopathy or chiropractic. Sports is also a far bigger sub-search than for either of these two therapies.
So, for your main SEO locations, it makes sense to use either private physiotherapy or private sports physiotherapy if you're happy with that label. Combine this with your primary location optimisation to create your main SEO optimisation, e.g. private physiotherapy in Reading or Reading private sports physiotherapy.
If you add your clinic name to this you will have a well optimised SEO title or h1 tag, or alternatively add another service and location:
Functional Physio | Private Sports Physiotherapy in Reading
Private Physiotherapy and Sports Massage in Reading
Private Sports Physiotherapy in Reading, Woodley and Earley
MSK Condition Searches
As we optimise further and into places where we have room to put more information, you can add any sub-terms from the above graphs which you want to, but also look at what conditions people are actually searching for treatment for: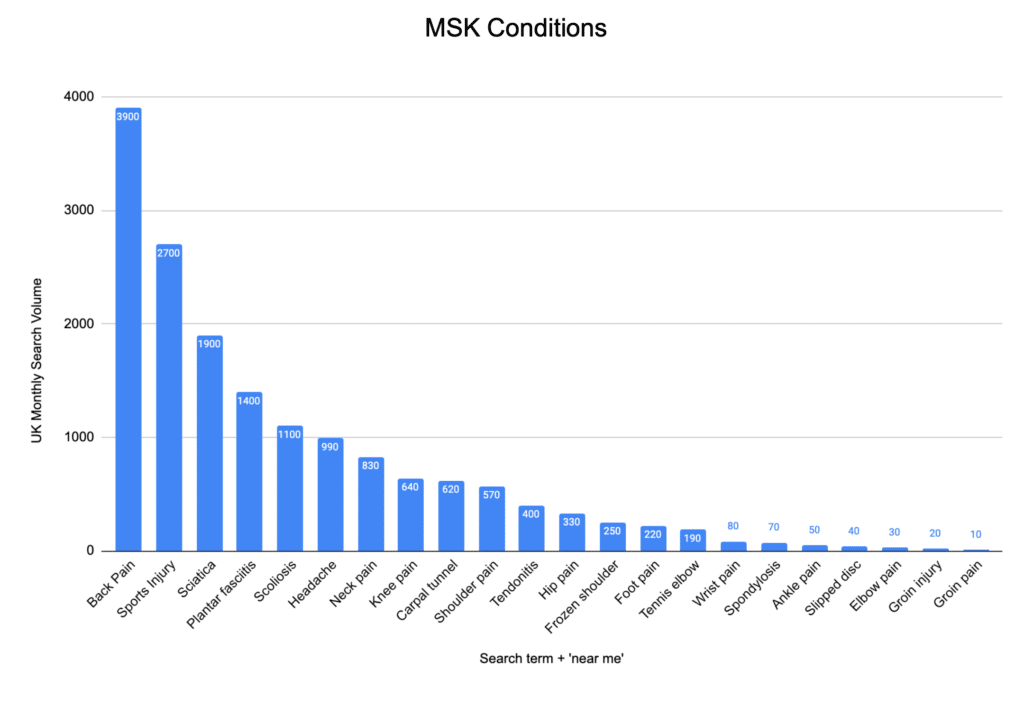 Here we can see that back pain and sports injury are the biggest searches, followed by sciatica, plantar fasciitis and so on down the line. There is obviously a question of your own specialisms and what you want to treat here also, but from a purely SEO point of view we would look to target these sub-terms. Let's say we were now writing a meta description for the homepage, where we now have around 150 characters to use:
Private sports physiotherapy in Reading providing private physio treatment for back pain, sports injury, sciatica, plantar fasciitis.
We still have some characters to play with, and can add a call to action knowing that the meta description is something a potential patient might see when looking at this and other clinics in their Google results:
Private sports physiotherapy in Reading providing private physio treatment for back pain, sports injury, sciatica, plantar fasciitis. Easy online booking.
Searches within Conditions
Drilling down into the searches people make for these conditions, we can see that the biggest sub-search of back pain is unsurprisingly 'lower'. Our previous research also showed that people with sports injuries overwhelmingly search 'sports injury clinic' when looking for local treatment. Again, hitting these exact phrases will potentially help us in Google search.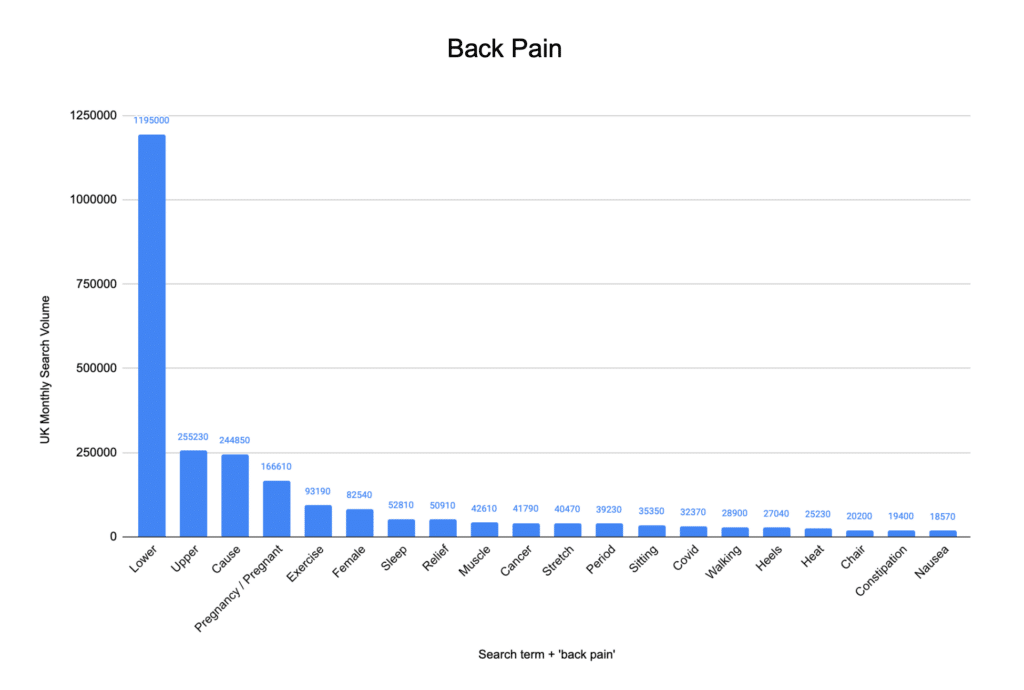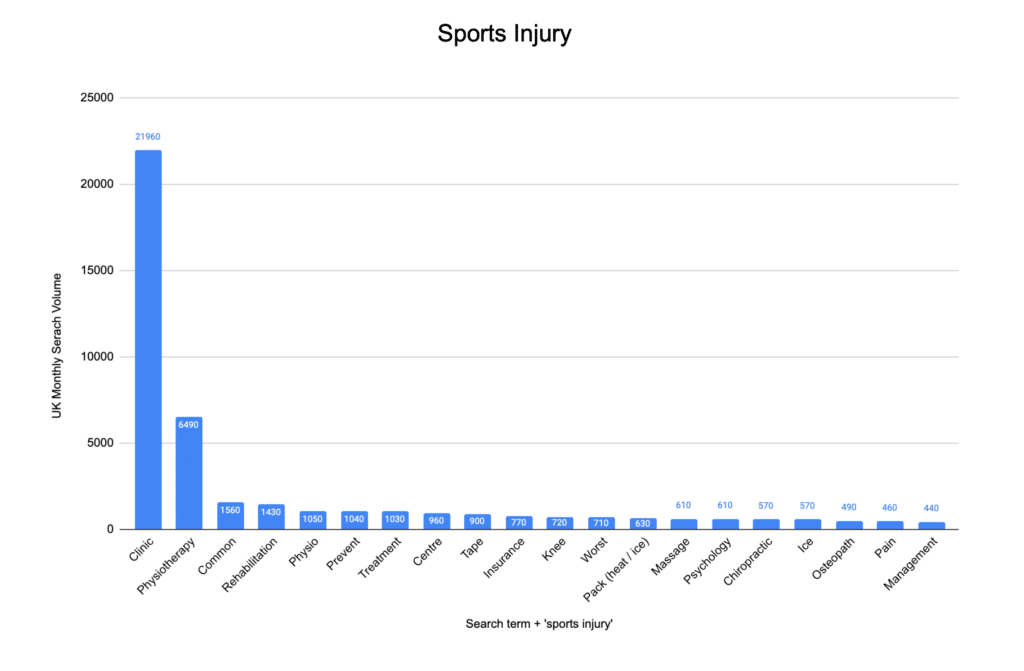 Our meta description now becomes:
Private sports physiotherapy in Reading providing private physio treatment for back pain & lower back pain, sports injury clinic, sciatica, plantar fasciitis. Easy online booking.
Conclusion
Although there is a lot more that goes into SEO and gaining patients, using the keywords your audience are actually searching for is crucial to ensuring you aren't missed out. An evidence-based approach using SEO data allows us to ensure that we're optimising our website for fertile search terms.
Another great place for SEO keywords is in your Google reviews. Having relevant keywords in reviews counts for more than publishing them on your site, so ask your patients to mention the service or complaint when reviewing (e.g. I came for physiotherapy for lower back pain).
Further Reading
To learn more and put this article into more context, you might also want to have a look at some of my other articles:
You might also want to download my physical therapy SEO books, from which the data in this article is taken, see the articles I've written for leading physical therapy journals, or book a Free Web Review for your clinic.