Our Manual Therapy SEO Reference Guide is now available.
The book is produced for anyone who wants to create or optimise a website for a manual therapy clinic. Graphs and charts show exactly what potential patients are typing into Google when they search for manual therapy online. This is the same information we use when working for clients to find the best terms to optimise clinic websites for.
Information for Therapies
The book is made up of two sections. The first section on therapies contains data for local and national searches for acupuncture, chiropractic, massage therapy, osteopathy and physiotherapy.
For each therapy there is a rundown of the most popular national and local search terms, showing the therapist what searchers are looking for around their service. The therapist or web marketer can then use this information to optimise the therapist website for the most fruitful searches. For example, the chart below shows the most popular "near me" searches for chiropractic.
We can see immediately that the most popular searches are chiropractic adjustment near me, pregnancy chiropractic near me and sports chiropractic near me, so the chiropractic clinic would do well to include these terms in their site.
For each of the therapies featured there is a full rundown of the most popular local and national searches. This table shows the most popular national searches for massage (results which are not relevant to MSK e.g. "couples massage", "massage oils" etc. have been removed).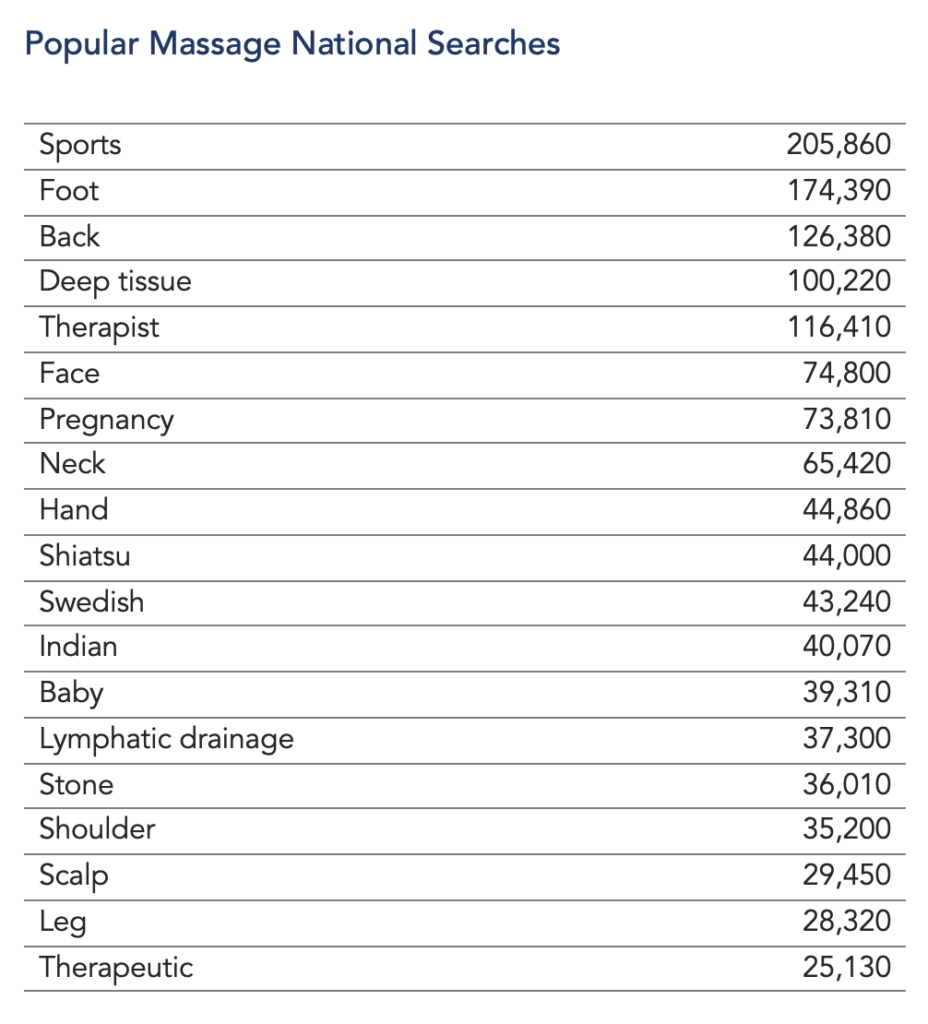 Again we can see immediately that optimising for sports massage is likely to hit twice as many searches as deep tissue massage, which in turn is likely to be four times more popular than therapeutic massage. This information allows the therapist to focus their website on the areas of their service for which there is the biggest market.
Information for Conditions
Most therapists choose to include some information about the conditions they treat on their website, from a brief rundown of conditions treated to a comprehensive knowledge base.
Here there are two pieces of information we need:
1. which conditions are most searched-for, and therefore most worth including on our website
2. what searches are people making within individual conditions – for example if most people with knee pain search knee pain from running, then it is worth going into more detail about this issue to be more in tune with the intent of searchers.
To know which conditions are most searched-for, we have tables of the 30+ most searched-for conditions, both locally and nationally: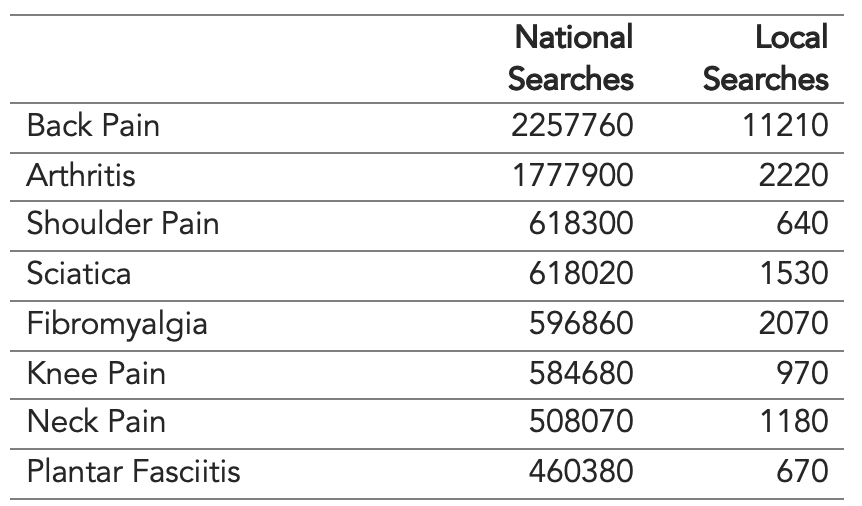 These tables give the therapist or web marketer an idea of the popularity of different search terms on a local and national search level, and allow them to make intelligent decisions about which conditions are most worth discussing on the website.
Individual Conditions
To target (2) above, we need to know what terms people are searching for within individual conditions. The book contains information on over 30 of the most searched conditions.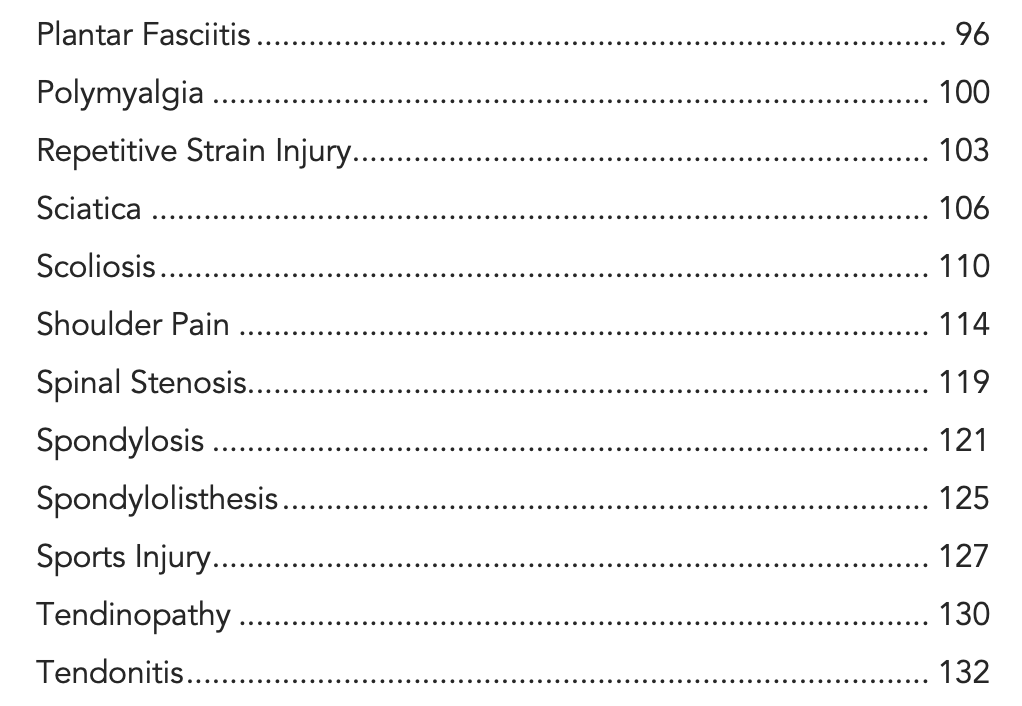 Within each individual condition we have information on the most popular treatment searches both locally and nationally, and other information relevant to the condition, for example the location or type of pain, what therapies searchers are looking for and what near me searchers they're making.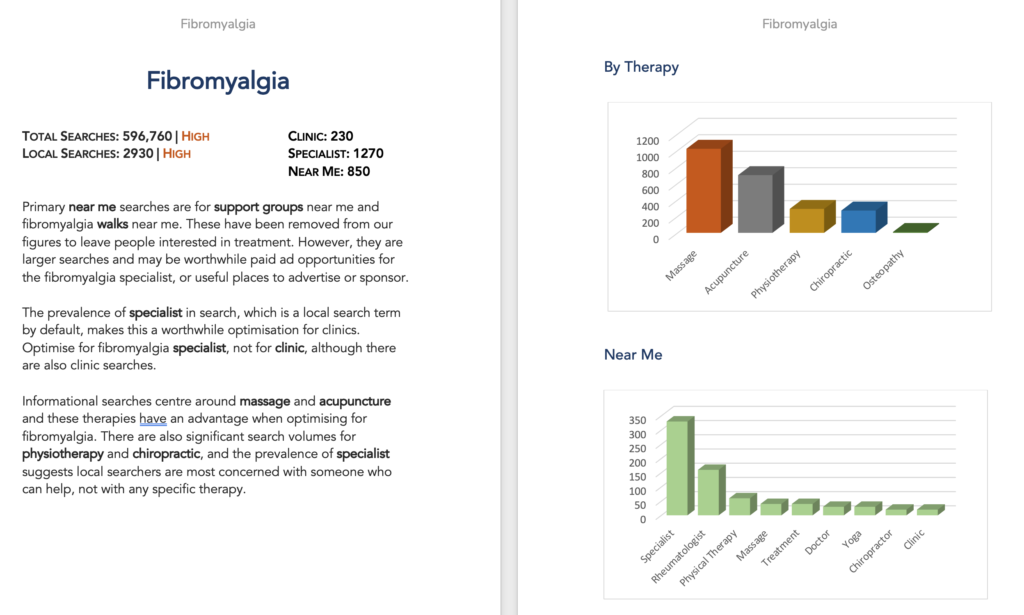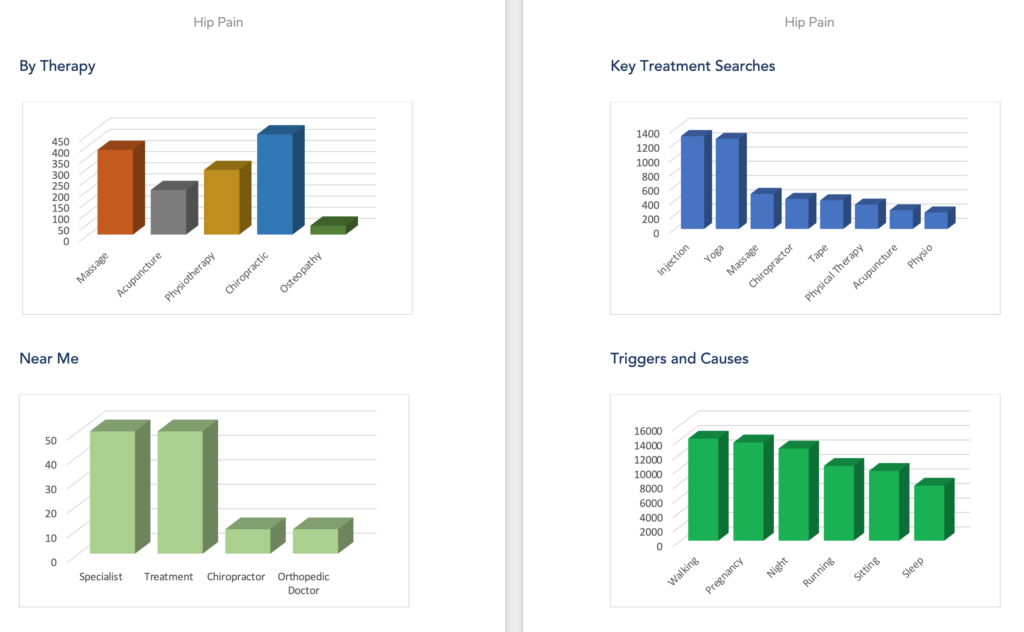 Taken together, all the data allows the therapist or web marketer to get a solid and evidence-based picture of people's concerns and questions around a particular condition or problem and precisely what they're searching for. This then allows them to create web content which hits searches and is most in-tune with their audience.
Buy Now on Amazon
The Manual Therapy SEO Reference Guide is available now in full-colour hardcopy on Amazon for £11.99. Click here to buy on Amazon.co.uk.
Get a Free Web Review
Need help implementing the data in the book or you'd like a no-obligation review of your site and have us answer any questions you have? No problem, book a Free Web Review today. We're here to help.