In the spring of 2023 we were pleased to build a website for the Poplar Osteopathy Clinic in Bletchley, Milton Keynes. Soon after publishing the site they had become the overall highest ranking osteopath within a 7.5 mile radius of their clinic. This quick case study looks at the website creation process and what the Poplar clinic did to achieve a great ranking so quickly.
You can view the Poplar Osteopathy Clinic website by clicking on Milton Keynes Osteopath.
History and Philosophy
The Poplar Osteopathy Clinic was created by husband-and-wife Rhodri Griffiths and Aimee Newton, both osteopaths. Aimee is also a yoga teacher and has a separate website for both osteopathy and yoga at anosteopathy.com. Both working individually, they decided to take the step to pool their resources and create their own clinic.
Like all osteopaths, Aimee and Rhodri work very holistically, but have a somewhat unique slant. First of all Aimee also has extensive yoga expertise, allowing her to combine yoga and osteopathy to create the most useful treatment and self-treatment programmes for patients. Secondly, Poplar wanted the focus to be very much on education and giving the patient the tools they need to understand their problem and the mechanics of staying healthy, making them a collaborative partner in their own health rather than just 'coming to get fixed'. All of this had to come through in their marketing.
Branding
Rhodri and Aimee hired a brand designer to create a unique brand for their clinic. They chose the name The Poplar Osteopathy Clinic, based on the poplar tree. The poplar is a particularly tall and fast-growing tree, able to reach heights of over 85 feet, and able to reach over 20 feet tall while just 5 years old. They combined this with a logo comprising a poplar tree with a person-shaped shadow, and the slogan "A unique approach to standing tall again".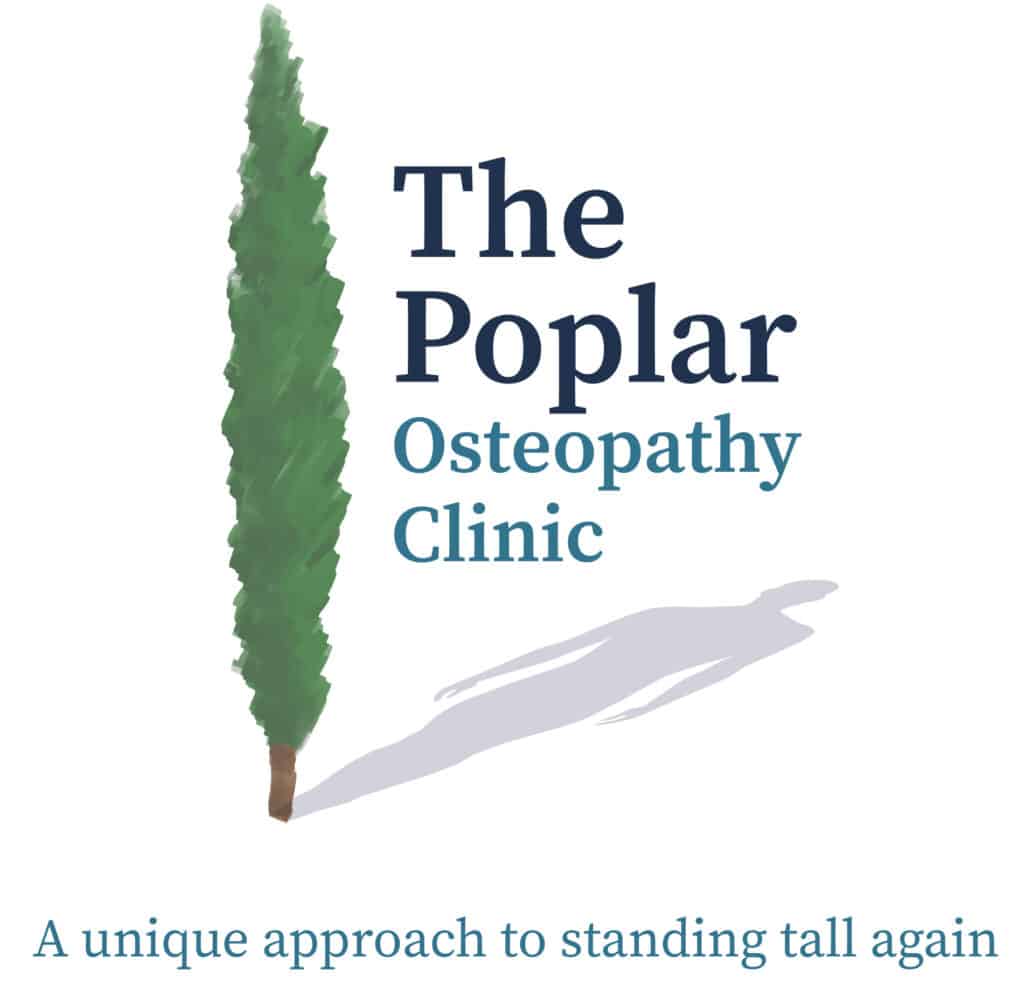 Poplar also supplied dozens of high-quality images following a photoshoot, making design work considerably easier and of a higher quality than would be possible without.
Website Design
Moving on to website design, our designers came up with an initial design for the site.

Whilst pleased on the whole, Aimee and Rhodri wanted their logo and brand to come through more in the initial 'hero' section. We tried several iterations of bigger and bigger logos before finishing with the logo on half of the screen.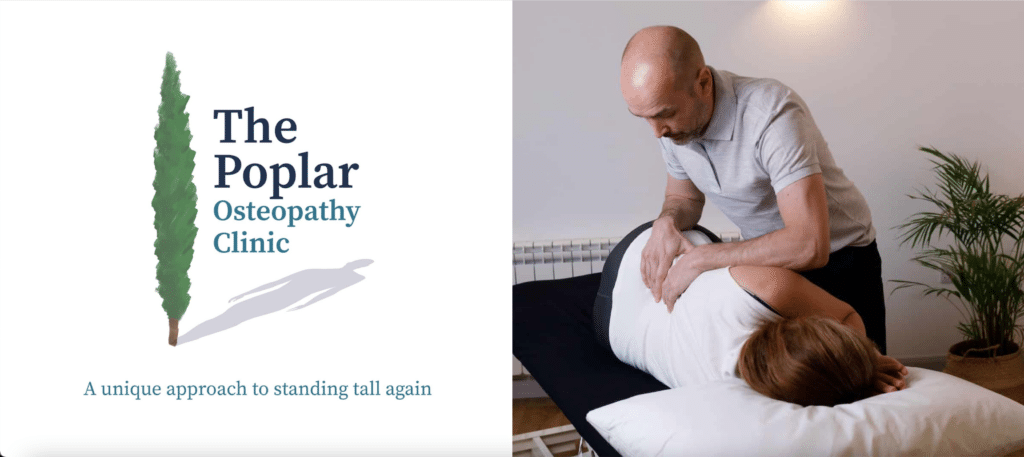 Despite us all being initially happy with the overall design, once it was built Aimee and Rhodri didn't feel the initial design really conveyed their brand as they wanted. We agreed, and took the design through another iteration which we were all pleased with, and had a more elegant and less "salesy" feel. Visit the Poplar Osteopathy Clinic homepage.

Mobile experience is of course crucial, and must be every bit as good as desktop.
Inner Pages
Poplar's inner pages consisted of standard contact, conditions we treat and clinician pages, a Cliniko-embed booking page, an about us page, and long-copy pages on osteopathy, sports massage, sports injury clinic and back pain clinic, to maximise their rankings for these key SEO terms.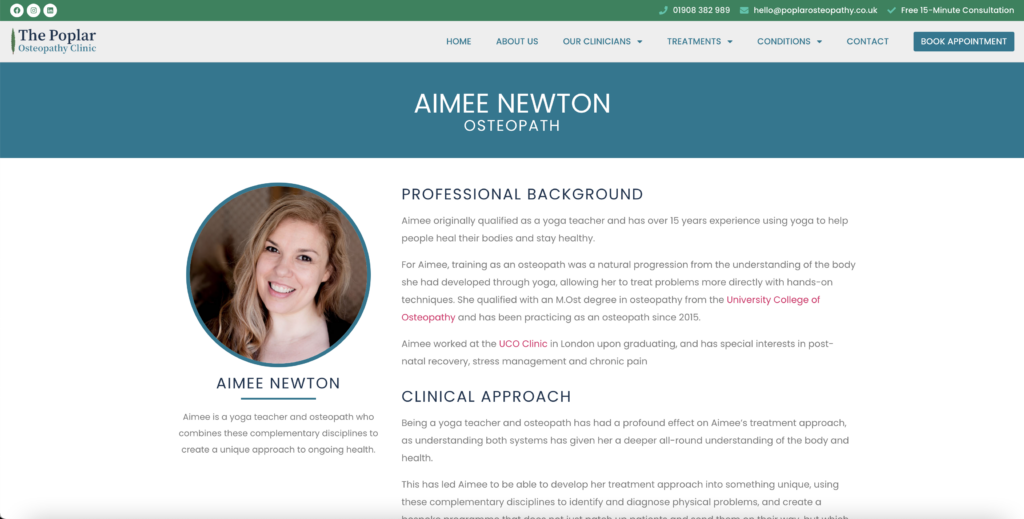 Practitioner pages are particularly important for SEO, allowing the website to demonstrate the experience, expertise, authority and trust (E-E-A-T) of the practitioners, to show Google that they are qualified to be offering medical advice.
Aimee Newton practitioner page
Rhodri Griffiths practitioner page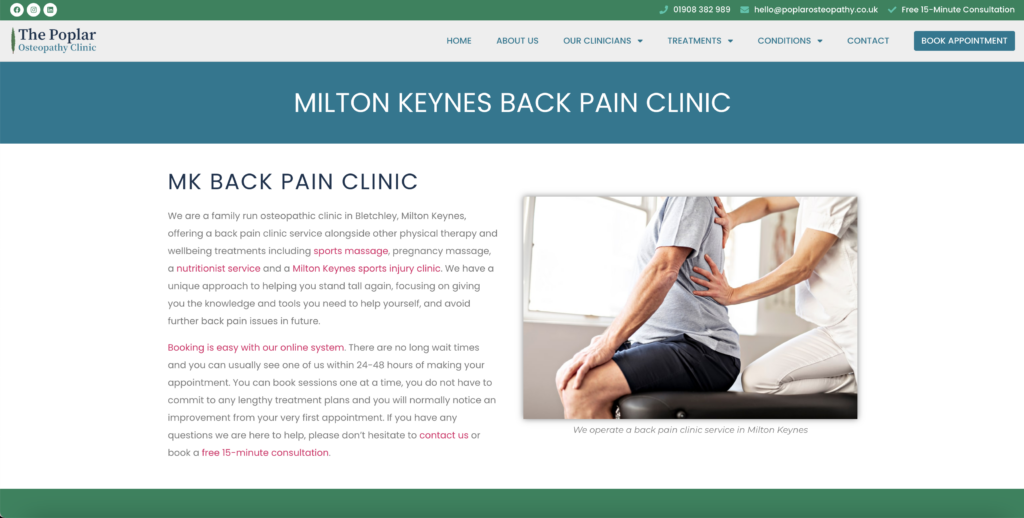 Osteopathy page
Sports Massage page
Back Pain Clinic page
Sports Injury Clinic page
SEO
We optimised the site primarily for the terms osteopath and Milton Keynes, with secondary optimisations for sports massage, back pain clinic, sports injury clinic and Bletchley. On-site optimisation consists of:
URL optimisation
Title and Meta tag optimisation
<h1> tag optimisation
Open graph optimisation
Hierarchal h2-h6 and p tag optimisation
Image alt tag, title and caption optimisation
Extensive interlinking between pages with appropriate anchor text
Extensive and appropriate outbound links to authority sources, including professional bodies and academic institutions at which practitioners have studied
Image optimisation
Technical optimisation
Page speed optimisation
Schema.org optimisation
Address and contact details on all pages
Sitemap creation and submission
Correctly formatted robots.txt file
A technical SEO audit showed no errors in any categories.

All tech SEO reports have to be understood in context and interpreted correctly. The report above throws up two errors, one for "sparse content pages" and one for "missing analytics tags". The sparse content pages are entirely appropriate in this context (your contact page, for example, does not need to contain over 500 words of text), and not utilising Google Analytics will not directly affect your SEO.
Google have also recently and very controversially announced that many factors in the report will no longer count towards SEO, including page speed and mobile experience, yet they continue to be featured in the Brightlocal report. These factors are extremely important for conversion if no longer for SEO, and should still be paid due attention. Whether Brightlocal and other report providers will update their reporting categories in the light of Google's announcement remains to be seen.
Google Reviews and Business Profile
It's impossible to underestimate the effect of Poplar's outstanding Google reviews on their SEO, and their proactive approach in building reviews (55 5* reviews within months of opening) has a huge positive effect both on their rankings and conversion rate.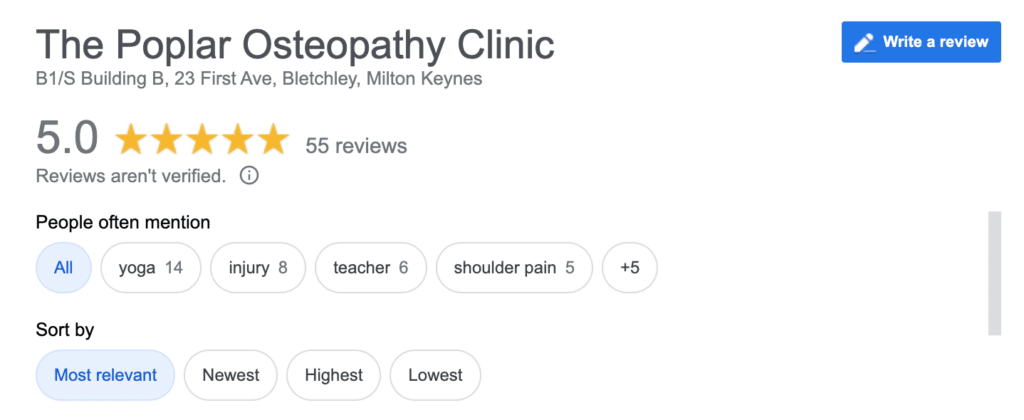 Excellent review building starts with excellent patient care and customer service. It's clear from reading Poplar's reviews that they go more than the extra mile for their patients and provide and genuinely outstanding service.
Poplar are also proactive in posting to their Google Business Profile and to their social media, all of which will help SEO, conversion, and patient retention.
A website or digital marketing agency can only go so far in improving your SEO on their own, and clinics which work with their agency as a proactive partner are always those who see the biggest success. Poplar have embraced this entirely, and their early SEO success is a credit to their proactivity and energy in both marketing their clinic, and providing a genuinely outstanding service on all levels.
SEO Results
Despite doing everything right and having a well-optimised, content-rich and original website, Poplar's initial SEO results were hugely disappointing, not ranking even a few hundred metres away from their clinic: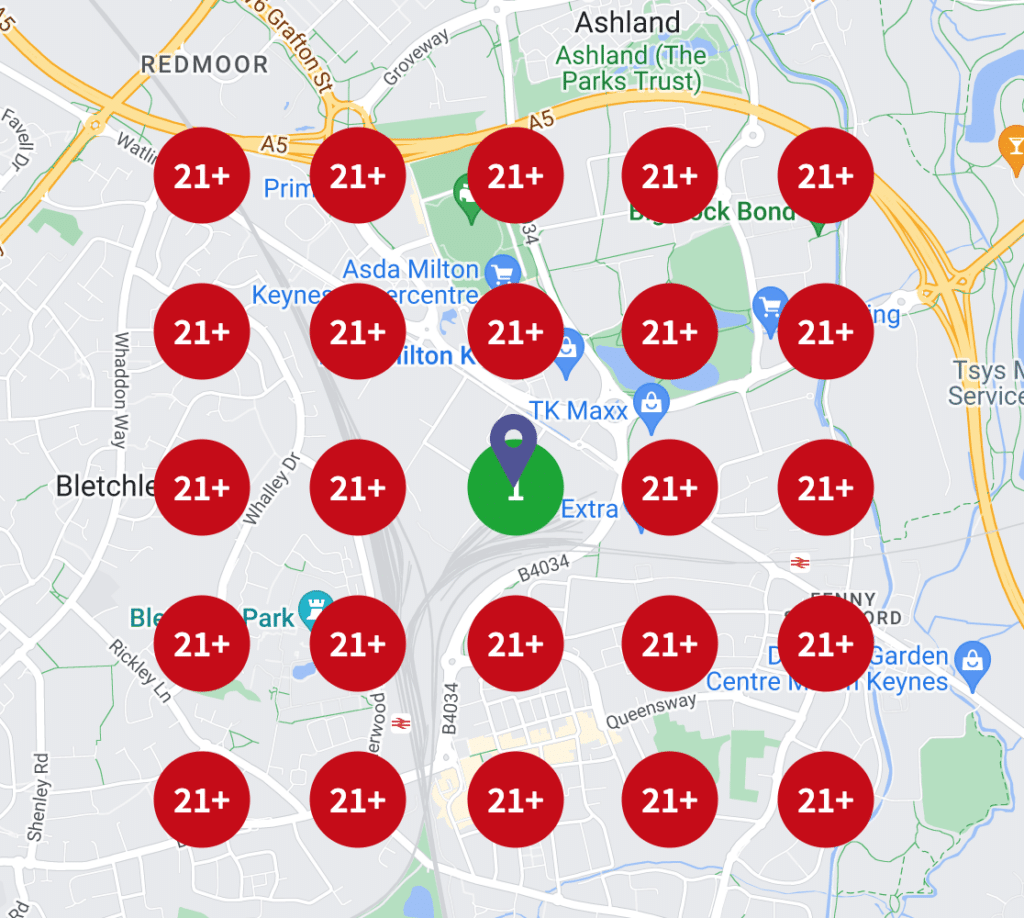 Sometimes this happens. We compare SEO to diet and exercise – we know what works but no-one knows how long or how much it will take to get results. We thought that this could be partly to being a new business, and partly to having very low authority in terms of inbound links and citations, and advised Poplar to run a citation campaign and to proactively begin trying to build inbound links from other local organisations.
Poplar did this and raised their website authority score quickly from 1% to 7%. Although still lots of room to take this a lot further (a good score for a small independent clinic would be around 30-40%), this seemed to "unblock" their Google results, and overnight went from not ranking at all to being a significant force on the map.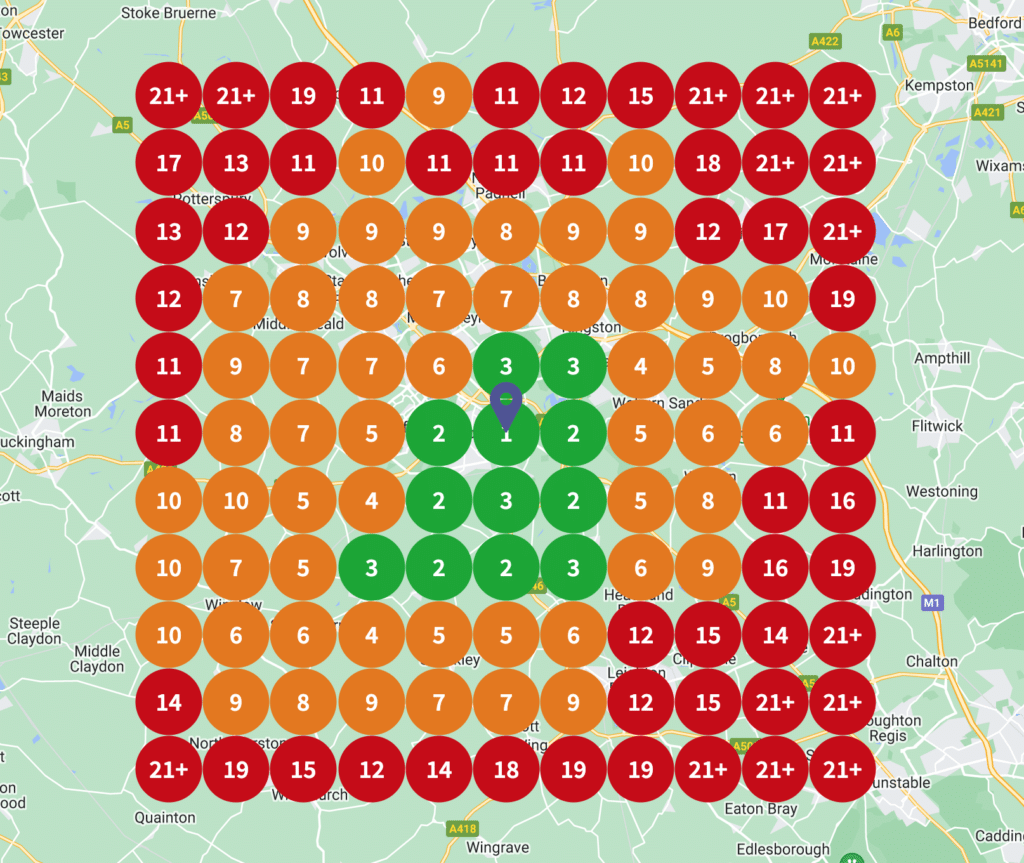 Rankings also increased very significantly for many other key terms (a plus shows a ranking for a term the site was not ranking for at all previously).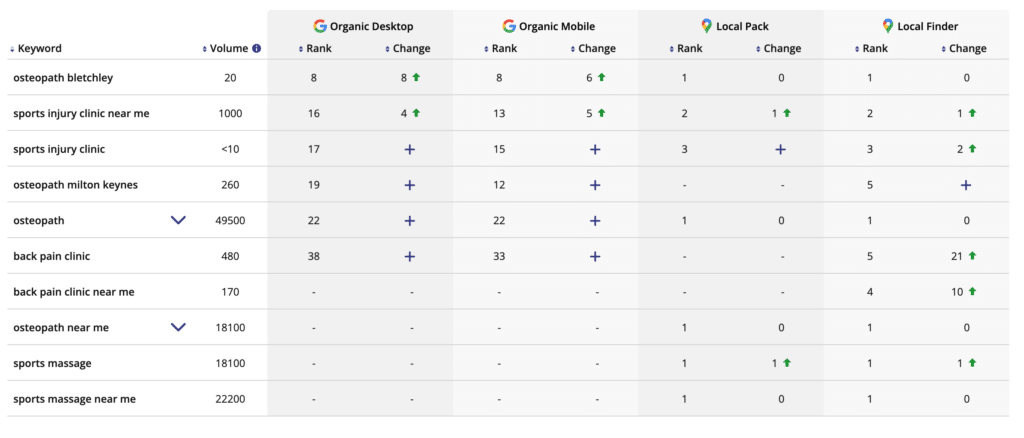 Looking at competitors, Poplar score the highest ranking overall ranking across the entire grid, giving them the highest average ranking in a 7.5 mile radius, in a highly competitive location.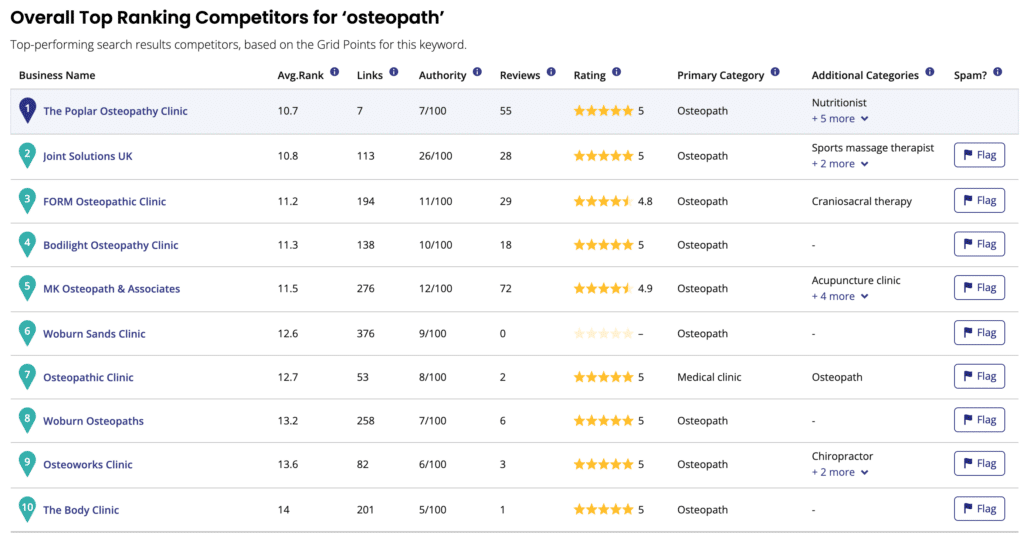 Note Poplar have by far the fewest inbound links on the entire map and one of the lowest authority scores. This makes for an extremely promising future. If they can achieve these results with a low authority, once they have raised their inbound links into the hundreds and an authority score of 30+, we would hope they would dominate the map completely.
For the key term "Osteopath Milton Keynes", Poplar rank 7th across the entire map. With consistent authority and link-building, we would expect it to be possible to raise this into the top 3, appearing in the Local Pack for this search anywhere across Milton Keynes and all the surrounding towns. This would allow them to gain incoming leads and traffic from the entire city and at no direct cost, a potential game-changer for their business.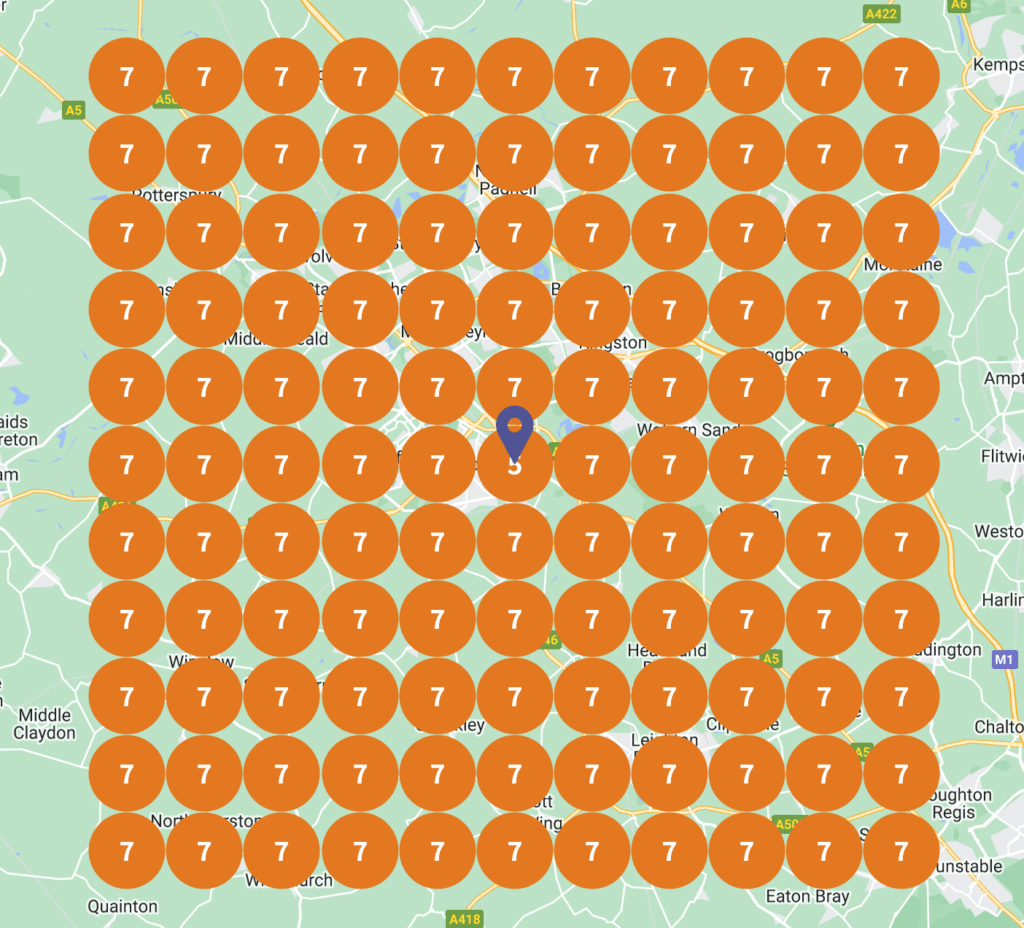 The Future
Poplar are a highly-motivated clinic who have seen extremely promising early SEO results and are doing all the right things. By continuing to build reviews, citations and inbound links from relevant sources to keep improving their authority score, it should be possible to increase their SEO successes exponentially. Options such as guest posting, authoring or being featured in local or national media could increase authority further, and Poplar have also considered a PPC campaign to target harder to reach areas. Poplar also plan to create regular blog posts for their site, and to add further "condition pages" to their website in the future.
It feels like these early successes are just the beginning for the Poplar Osteopathy Clinic, and we look forward to working with them and seeing them grow further in the months and years ahead.
Featured Image: "osteopath", 10km grid, 10 May 2023