We recently increased local Google rankings for one of our clients across a range of 16 keywords, including osteopath near me and back pain near me. Many of these terms the client wasn't ranking for at all, and for several they have entered the top few results on Google and Google Maps.
We did this entirely with on-page SEO, i.e. by making changes and additions to their website. In this post we go through exactly what we did to achieve these results.
The Results
We carried out the work in March-April 2022 and compared results from the beginning of March with the beginning of June. These are the results we achieved:
| | | |
| --- | --- | --- |
| Term | Position March 2022 | Position June 2022 |
| Osteopath | 50+ | 1 |
| Osteopath near me | 2 | 1 |
| Back pain near me | 38 | 1 |
| Back pain West Hampstead | 11 | 2 |
| Sciatica treatment near me | 50+ | 3 |
| Back pain Hampstead | 47 | 5 |
| Osteopath Hampstead | 50+ | 5 |
| Osteopath West Hampstead | 9 | 5 |
| Scoliosis physical therapy near me | 50+ | 7 |
| Sports injury clinic West Hampstead | 50+ | 9 |
| Sports injury clinic near me | 50+ | 9 |
| Scoliosis treatment near me | 50+ | 10 |
| Back pain | 50+ | 14 |
| Back pain clinic | 50+ | 16 |
| Back pain specialist | 50+ | 26 |
This chart shows the improvements in all terms over time

You can see the full results on this report from BrightLocal. Please note the client's name has been redacted at their request.
Selecting Terms to Optimise for
The first step is to pick what terms to optimise for. We know that after osteopath plus the client's location (Hampstead, London) and near me, the most searched-for terms are sports injury clinic and back pain (clinic / treatment). Sciatica and scoliosis are also very popular searches which fit well with the client's skillset.
The chart below shows the most popular local treatment searches for manual therapy, from our book The Manual Therapy SEO Reference Guide.
We decided to optimise for the following searches, and monitor them at the client's location:
Back pain
Back pain clinic
Back pain Hampstead
Back pain near me
Back pain North London
Back pain Specialist
Osteopath
Osteopath Hampstead
Osteopath near me
Osteopath North London
Osteopath West Hampstead
Sciatica treatment near me
Scoliosis physical therapy near me
Scoliosis treatment near me
Sports injury clinic
Sports injury clinic Hampstead
Sports injury clinic near me
Sports injury clinic North London
Sports injury clinic West Hampstead
Choices of words such as treatment, physical therapy or clinic are based on what users tend to search for on Google, based on search data. For example, people searching for back pain are likely to look for a specialist whereas Scoliosis patients are likely to search physical therapy. Treatment is not by default a local search unless a modifier is added such as a location or near me, so there is little point tracking terms such as back pain treatment. Again, this information is available in the Manual Therapy SEO Reference Guide.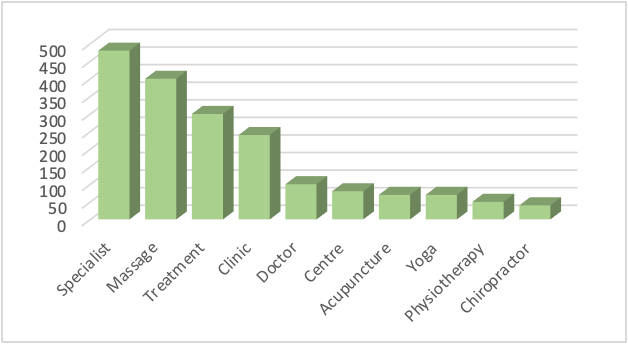 Hampstead and West Hampstead are extremely competitive areas for manual therapists, with a very large density of successful practices.
Some terms we did not rank for despite optimisation, including Osteopath North London and Sports Injury Clinic (as opposed to Sports Injury Clinic Near Me). Sports Injury Clinic is a difficult term to rank for as it will return many national results rather than just local, but I am disappointed we didn't rank for Osteopath North London given the client's domain authority and results for Osteopath. To take this further we'd begin by analysing the sites that are ranking to see why they have an advantage on the term North London.
There were no terms whose position went down.
What We Did
All of these results were achieved using on-page optimisation. We improved existing pages for the following terms:
Sports Injury (Clinic)
Back Pain (Clinic)
Scoliosis
Sciatica
We made each about 1000-1500 words long. We need to demonstrate to Google that:
We have useful information about the condition, well set out and in reasonable depth
We are useful for the person seeking treatment (i.e. a quality clinic with ability to book appointment)
We link within the site to other useful information (i.e. to practitioners, clinic information, about our therapy, etc.)
We are a hub of useful information for the searcher (i.e. we link out to many high-authority websites containing more in-depth information)
The information is provided by a qualified professional
Page Structure
Our general page structure for a condition page is as follows:
Explain what the condition is (include causes, symptoms, types, etc)
Explain how the condition is treated (generically, including anything from heat packs to surgery)
Explain the clinic's approach to treating the condition (how our particular therapy helps the condition)
Explain more about the clinic (credentials, maps, links to practitioners and clinics)
Call to action (book now button)
Further resources (links to more high-authority sources)
Medical review (show that the page was reviewed by a qualified practitioner)
For this client we also added an intro section to each condition giving a summary of the information.
Outbound Links
Links out to high-authority sources are very important as they show Google you are a hub of useful information and that the information you are giving is plugged-in to the wider information on the topic (i.e. you are not making it up as you go along). Each page contained 10-15 outbound links to high authority sources.
Internal Linking
Also important is internal linking within the website. Both inbound and outbound for the relevant page are important. Links out to the rest of the site from the page show Google it is easy to get to other relevant information on the site from the page, and links in to the page add to that page's authority for its term. For example, the sports injury page has more authority for that term if there are 10 other pages on the site linking to it which all have sports injury as their anchor text.
Guide to Condition Pages
We cover this methodology for condition pages in more detail in our guide to writing condition pages, along with an example page.
Confidentiality
The client has asked that we don't publish links to their clinic or pages in order to prevent their competitors discovering and copying them!
Should you want to see examples of condition pages we have created, don't hesitate to contact us.