I have been a regular osteopathy patient for over 20 years. I first visited an osteopath for lower back pain and over the years have been back with a million different sports injuries, and with RSI that hurt from my fingertip to my ear.
As a digital marketer and web developer, osteopathy was a natural choice when I first decided to specialise in healthcare. For the first two years I traded as Websites for Osteopaths, which gave me invaluable experience in working with the profession.
In summer 2022 Osteopathy Today published an article I wrote on Facebook marketing for osteopaths, following research I did on osteopaths who were successfully marketing themselves on social media.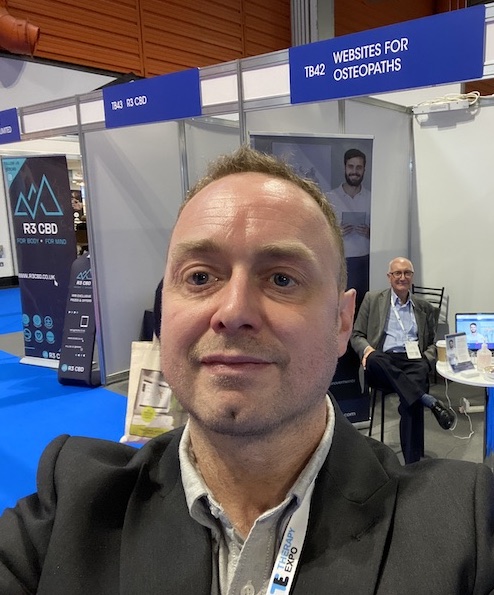 "Chris has worked with me for several months and been far more than a website builder. We wanted to think through our approach to leadership speaker skills coaching as well as develop our Body Back-Up Osteopathy site. He has inputted and made suggestions that have made our COGUK project come to life."
"I have over a number of years used many outfits, companies to help improve my website, SEO, and marketing strategies. I have a reasonable knowledge in this area having worked in healthcare for nearly 40 years. Simply put Chris Dann is unquestionably the best there is."
"Chris is very easy to communicate with, personable and he always made time to talk things through to fit in with my busy schedule. I had a very frustrating email server problem which he helped me resolve quickly. He also improved the look of my website and made it more user friendly and searchable. I even got a mini tutorial to help me make changes myself going forward. I'd highly recommend his services."
"I couldn't recommend more Chris for all his help and professionalism. He has been very clear, transparent and precise about the SEO process, the timelines and the outcomes. All the adjustments that had to be done on the website etc were planned together and the initial report to understand what needs to be done is brilliant. Thank you Chris!"
"Chris updated my old website making it much more user friendly. Chris is attentive, efficient and really knows his stuff. A very good working experience I highly recommend him."
"Thank you, you did an amazing job."